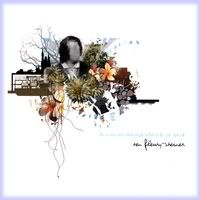 "The three essentials of the English language are: Purity, Perspicuity and Precision."—Joseph Devlin
Ben Fleury-Steiner runs the non-profit record label Gears of Sand. Gears of Sand uses a straightforward and admirable plan. The label releases ambient and Zoviet-France-esque experimental artists in limited edition CD-Rs, featuring solid artwork. Its roster of artists is impressive, and each GoS recoding I have heard has been a worthwhile experience.
Dr. Fleury-Steiner's own work,
As a Means Through Which I Can Speak
, presents eight pieces which explore the furrowed yet rich field of melodic drone. Recorded between August 2005 and September 2006, the work contains atmospheric pieces which seek to approximate a "journey of discovery."
As a Means Through Which I Can Speak
opens with "Distance is an Accomplishment of the World (Part One)," a strong piece which uses a mildly ethereal melody and spaces between sounds to achieve a pleasing effect. "As a Means through which I Can Speak (Part One)," the next piece, achieves a resonance I found very satisfying. These two pieces are perhaps the strongest on the CD.
Fleury-Steiner's work is neither synth-happy nor so minimal as to be a mere soundscape for pondering. He instead achieves a balanced sound which, in the main, satisfies both the electronic pioneer and the person who, as I do, enjoys hearing melodic themes elegantly expressed in drone. The decision to break two of the tracks into parts is a wise one. I could easily imagine this release being broken down further from eight pieces into twelve or sixteen. I think this is because what I value in this work is its sense of a crisp moment—a sense that is subserved by shorter pieces. The pieces on this release are not equally effective. The pieces that have a melodic theme embedded effectively in the drones please my ears far more than the pieces which merely achieve a particular drone-riff and settle in for the duration. The release has a solid sense of production values, and the mastering by William Fields is effective.
I've admired Gears of Sand since I acquired one of its initial releases. Its releases consistently illustrate how small labels can do things that large labels are no longer capable of doing.
As a Means Through Which I Can Speak
provides a rich array of interesting pieces—uneven perhaps, but never unentertaining. Even the least pieces are a solid listen, and the best pieces are sublime. Ambient music, like the English language in the old Joseph Devlin saw, may be about "purity," "perspicuity" and "precision," yet Fleury-Steiner reminds us that ambient music is also about lingering questions, half-dreamt notions, and everyday-ecstatic encounters.
As a Means Through Which I Can Speak
eschews dronastic bombast and elven song titles in search of a kind of off-kilter yet lovely sonic poetry. It is a meditation without chant, and a question-less evocation of mystery. I'm glad I listened to this mode of speaking.
Available from
Gears of Sand
.
Review by
gurdonark
.