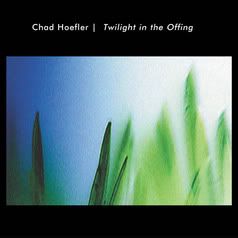 "We may laugh down the dream, For the dream breaks and flies; And we trust now the gleam, For the gleam never dies;— So it's off now the load, For we know the night's call, And we know now the road And the road leads us all."–from the Edwin Arlington Robinson poem "Twilight Song."
Is twilight in the offing? This question plagues ambient listeners nowadays. The second and third generation of any new movement face the problems of complacency. The rich and vital movements of barely yesterday–minimalism, tribal fusion, dark ambient, for example–become the stock genres of today. Thus, the early Quakers moved from religious ecstasy and radical notions to fervent shop-keeping and regular meetings. Thus, punk calcified into three chord lounge jazz, albeit jazz with mohawks. A visit to the ambient message boards yields glimpses of fervent debate about whether a work falls into "this box" or "that box." Heaven deliver we who seek out the new from actually experiencing any. After the calcium builds sufficiently, the risk of blockage ensues.
From the heady days when "sound as sound" seemed more a mantra than a brand slogan, ambient movement personnel–musicians, fans, promoters and academics–sought to create a "new" movement, which redefined how music is experienced. This is a tall order, particularly as the sun still fails to provide due deference to new things, shriveling the new grapes into raisins as surely as it has always done the old ones. Ambient became a genre, a pull-down menu item when one wishes to name a .wav track–a known quantity which formerly eschewed all of the ability to be known. We set out to experience a revolution, and we discovered product instead. The guillotine snips off our cigars, and lights them for us.
The Hypnos label remains my favorite ambient label. Ironically, this is because it provides a set of known quantities. That's not to say, as some suggest, that Hypnos releases have a sameness about them. To the contrary, Hypnos releases a solid band of disparate works, which encompass dark, light, and minimalist ambient. Yet when one buys a Hypnos release, one is reasonably well-assured that one will get a CD that will err on the side of understatement rather than excess, that will feature production values neither over-ripe nor lo-fi, and will neither embrace pop sensibility nor leave behind entirely western melodic conventions. From the artwork to the silver disk to the subtle artistry, one knows what one gets with a Hypnos release.
The very stability of ambient music, though, as it is performed today, poses a challenge for new artists such as Chad Hoefler. One can no longer pretend to be the first person to run sunspots through the sequencer, or the first to make a sine wave sound like the embers of a dying flame. How does an artist go new places in a world of "been there, done that"? Chad Hoefler solves this dilemma capably. In
Twilight in the Offing
, he provides seven pieces which recognize what has gone before, and synthesizes it into something interesting. Mr. Hoefler does not seek to dwell in the house of one particular genre of ambient. His music instead features elements of dark and light, of tribal and minimalist, and of shimmering melody without needless pop detritus.
The CD begins with "Crimson Lost," a solid pulse of melodic electronica, leavened with an unexpected and slightly unsettling simple percussion line. "Enveloping Shadow" and "Substrata" both feature dark ambient finesses, including the familiar ambient conceit of "Substrata" of creating a soundscape consistent with the exploration of things underground. But Mr. Hoefler declines to be bound to one style of ambient music. The CD's best piece, "Refugia," is a gorgeous wash of shimmering melody, which would not be out of place rendered in guitar on a Jeff Pearce CD. Hoefler shows throughout these pieces that he knows what has gone before, he has learned from the "ambient catalog," but that he seeks to make new sounds from the blending of the old.
Hoefler's work therefore tends to draw together elements from different ambient genres, seeking to achieve a synthesis which references each sub-genre rather than imitate any one sub-movement of the broad field of ambient music. The darker sections, as is customary with Hypnos works, tend to stay more on the minimal side of the spectrum than on the noise side. The lighter sections, also as is customary with Hypnos artists, tends to be melodic but not poppy or saccharine. Hoefler's work blends in percussion and the stray tribal element, but this work does not have an "agenda" to create one particular soundscape. Its key virtue is that it creates a workable blend of things old in an effort to create things new. It is a solid, effective, well-done old-fashioned good listen. Robert Rich capably produces the album, and, not surprisingly, his influence is felt in its pieces. The album's title "Twilight in the Offing," sounds artificially archaic, when a simpler title such as "Almost Twilight" or "Nearly Dusk" would have, to my somewhat poetry-attuned ears, have sounded less mock-grandiose. Otherwise, though, the CD has every shimmer and hum of well-turned ambient music. But it is music for a third generation–the revolt gone past style and displayed on the store shelves.
In a way, the appearance of a Chad Hoefler signals yet another sign that ambient is no longer a movement, but merely another commercial genre. There is nothing wrong with commerce or genres, but this seems a long distance from the theories of the novel and distant places which we all hoped ambient would transport music. Yet I enjoyed this album very much–and if it is to take me no further than my tract home, but provide me with an appreciation of an insightful artist, then I am content.
Available from
Hypnos Recordings
.
Review by
gurdonark
.